The ASO ® (Ankle Stabilizing Orthosis) Ankle Brace's remarkable support, comfort and durability has made it the sports medicine professional's choice for effective treatment and prevention of most ankle sprains. The ASO offers better support than ankle taping and is comfortable, easy to put on, and reusable. The ASO Ankle Brace fits easily and comfortably into a normal athletic or street shoe and its non-stretch stabilizing straps simulate the basketweave technique of an athletic taping application, effectively locking the heel. Plus, the straps can be retightened at any time – without removing the shoe. The ASO Ankle Brace also fits either the left or right foot. This is the ankle brace that delivers exceptional performance for superior patient results.
MedSpec ASO EVO Ankle Stabilizer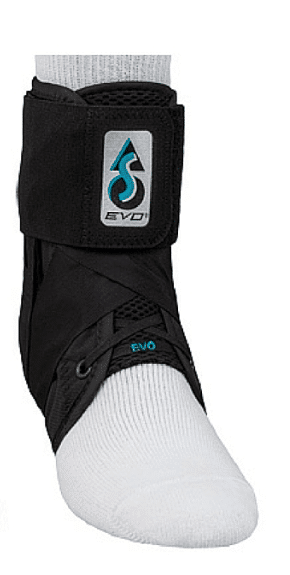 The MedSpec ASO EVO ankle stabilizer is an EVOlutionary step forward in ankle protection. With its new strapping and cuff design, the EVO provides even greater inversion / eversion control and protection against syndesmotic ankle sprains than the original ASO. In addition, the dynamic cuff has been upgraded to offer superior comfort and support
Features & Benefits:
Stirrup strap: captures heel to restrict inversion & eversion ankle motion
Stabilizing straps: form figure-eight to protect and support ankle.
Dynamic cuff: protects against high ankle sprains
Bilateral design: each size fits left or right foot
Ballistic nylon boot: provides tremendous strength and durability
Indications:
Inversion or eversion ankle sprains
Syndesmotic ankle sprains (high ankle sprains)
Medial or lateral ankle instability
Subtalar joint instability
MedSpec ASO Flex-Hinge Ankle Stabilizer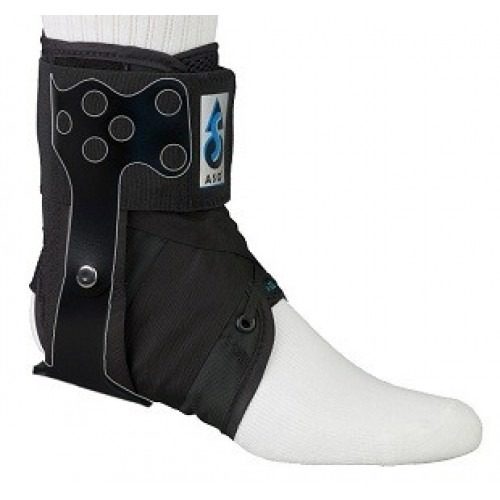 The ASO Flex Hinge Ankle Brace provides the highest degree of medial/lateral ankle protection for those with a history of chronic ankle sprains or for sports ankle sprain prevention. These ASO braces are extremely supportive ankle supports that incorporate a semi-rigid stirrup design within the original brace. The ASO Flex Hinge ankle stabilizer is perfect for football and soccer where maximum protection with aggressive lateral movement and pivoting actions is required. This model is the most supportive ankle brace in the ASO line and is designed to provide the greatest degree of stability. Fusing a hinged and lace-up ankle stabilizer, the ASO Flex- Hinge provides superior ankle stabilization using the proven technology of the ASO's strapping system and a built-in articulated plastic shell.
Features:
Upper portion design creates an inner cuff that wraps around the tibia and fibula (resists separation to treat syndemosis ankle sprains)
Internal plastic shell is built into the boot and conforms to ankle
Low profile hinge cover
Stabilizing "figure 8" straps
CoolFlex Achilles pad and tongue
Bilateral construction fits left or right foot
Sports Med Shop Question or Order