Custom Orthotic inserts allow your feet and lower legs to function at their highest potential. Custom Made Orthotics can decrease pain, alleviate pressure, and increase stability in unstable joints.
Orthotics Are Used to Treat Many Conditions such as:
Hammer toes
Heel spurs
Achilles tendinitis
Arthritis
Our team works with you in our personalized Custom Orthotics experience to help you get back to work, life & play.
The superior technology that we use involving 3 dimensional imaging ensures unparalleled results with orthotics that fit the contours of your feet and add in customized adjustments where needed to allow us to consistently deliver top-level care. We can quickly capture foot contour measurements, while making individual adjustments using the computer. This results in the ability to create perfect-fitting foot orthotics for you. It also allows for a weight-bearing representation of the foot, helping to create orthotics that alleviate pain without shifting the problem farther up the body.
If you are spending a significant amount of time on your feet, dynamic custom foot orthotics can improve foot comfort, reduce pain & enhance your performance.
Our Custom Orthotics are flexible, not rigid. This dynamic structure is intended to optimize body biomechanics.
Custom Orthotics Work Especially Well For:
Running shoes

Hockey Skates

Golf Shoe

Ski Boots

Any Specific Sports Footwear

Rehabilitation of injuries

Improving posture, stance & balance

Reducing or eliminating most foot, knee, hip & back pain

Diabetic's insoles
PEAK Orthotics
Collegiate Sports Medicine has partnered with PEAK Orthotics from Courtenay, B.C., (manufacturer of Amfit Custom Orthotics) to provide the only Health Canada Approved Automated Technology for the measurement of custom foot orthotics.
To create a perfect replica of the undersurface of your foot we use the internationally acclaimed Amfit 3D Digitizing System in Red Deer and foam imprints in our Olds clinic. The practitioner aligns the lower leg, foot and ankle to optimize your biomechanical position. We then build the most comfortable and functional orthotic for any type of footwear.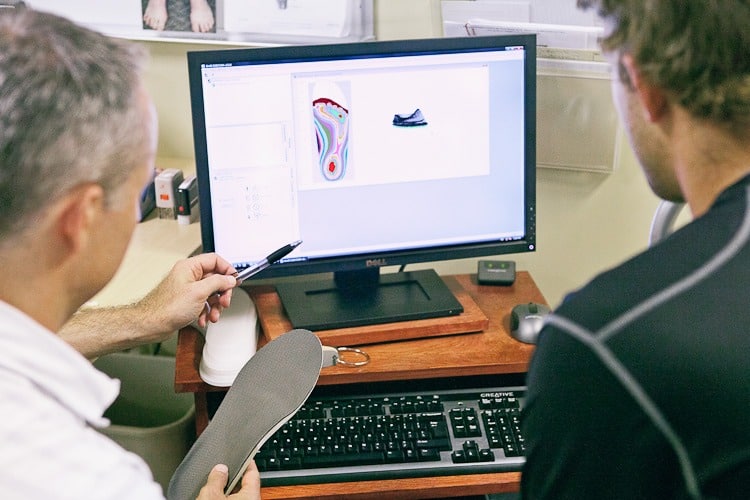 Orthotic Assessment
Our Custom Orthotics Assessments will be performed in-house by Certified Athletic Therapists or Physiotherapists who specialize in biomechanical evaluation and this enables them to use these skills & knowledge in making appropriate recommendations for your foot health.
Our Practitioners will do a complete history & assessment including:

Getting a history of foot/ankle/knee problems

A hands-on assessment of joint movements & limitations from the foot up to the hip depending on where the trouble may be coming from

A visual observation of your walking biomechanics looking for atypical movement patterns.

Review your current footwear to see wear patterns as well as the presence & location of callus patterns on your feet

You will then have a 3D digital scan or foam imprint of your feet 

Based on this, and any individual foot deficiencies or history of foot/ankle/knee problems, dimensions will be adjusted to create your ideal biomechanics
Bring the footwear that you intend to wear the orthotics in and an older pair of shoes (if possible) to show wear patterns. Include insoles or current orthotics used as well
Wear tighter clothing or shorts to allow for ease of assessment, and measuring purposes.
It is recommended NOT to have a pedicure previous to an assessment to allow for the best assessment of your bare feet.
Custom Made Orthotics will take 7-14 days to be returned from the manufacturer.
You will receive a call when they arrive and will be asked to book in for a fitting appointment (approx. 15-30 minutes).
Warranty: 90 day fit guarantee, 6 month top cover guarantee, 1 year manufacturing defects (lamination or failures of any structural material will be replaced or repaired).
---
Our fabrication lab has over 99% success rate on the first fit!
---
Frequently Asked Questions:
How often should I replace my orthotics?
Wear will vary depending on the specific use but as a general guideline, it is recommended that the feet be re-assessed every 2 years. Feet do change over time and the orthotic may need to be adapted to fit these changes accordingly.
Are footbeds the same as orthotics?
No, footbeds are mainly designed to make the feet fit more comfortably in footwear and do not help with control and correction of the foot. Most footbeds are sold in retail stores and do not require a prescription or assessment.
Will my orthotics fit in all my footwear?
Not necessarily, the fit of the orthotic depends on the type of shoe being worn but they will fit in most of your footwear. Different styles of shoes have differences in heel cup diameter, arch sizes and widths. Similar styles of shoes, like running shoes, will often fit but footwear such as skates, ski boots, cleats might need their own pair.
What is the difference between rigid and flexible orthotics?
Flexible orthotics allow the foot to continue to be challenged and strengthened with daily activities which reduces the dependency on the appliance and retains foot integrity.
Will my Insurance Plan cover Orthotics?
Each insurance policy is different but most plans do have some coverage. Many plans have requirements in these areas:
Prescription: Depending on the policy you may need a prescription that includes a medical diagnosis
Practitioner: The required Practitioner may differ from policy to policy. Some policies may only require that it be custom-made while some may require the fitting/assessment to be done by a specific professional. At Collegiate we provide fittings/assessments done by Certified Athletic Therapist or Chiropractor
Pre-authorization: Some plans will require a pre-authorization with an estimated cost as well as an explanation of why the supply is needed, how long it will be needed for (usually a physician referral or report)
Please contact your provider for more information.