The Therapeutic Massage Therapists at Collegiate Sports Medicine can help solve a variety of ailments. Specialized massage therapy techniques can help you recover from an injury (sports or non sports related), recuperate during post surgery, relieve pain, treat consistent pain, reduce stress, increase relaxation, and even address anxiety and depression.
Our Team at Collegiate Sports Medicine offers a variety of techniques to aid in your recovery. In fact, Collegiate Sports Medicine is the only clinic in Red Deer offering some of these massage therapy techniques.
What Sets Us Apart
Our Registered Massage Therapists use techniques to help improve circulation, neutralize muscular tension, relieve pain, reduce stress and promote health and well-being. The greatest benefit comes from prevention. Through a combination of massage and stretching techniques, a Massage Therapist can enhance the training and performance of athletes and the comfort and health of everyone. Because massage therapy directly influences muscle tissue, it has the ability to keep muscles flexible and reduces formation of fibrotic tissue, thus avoiding the negative effects you may get from muscle tightness.
Our Registered Massage Therapists will provide you with home program stretches to help facilitate their treatments
The home program includes working with you to find an effective, sustainable self-care strategy to help achieve/maintain your treatment goals
Our Registered Massage Therapists Collaborate with other Collegiate Practitioners, such as Physiotherapists or Athletic Therapists, as needed to direct your treatment​
All of our Massage Therapists have 2200 hrs or more accredited program hours
Your appointment starts at the booked time, so it's recommended to arrive early for paperwork, etc so you can spend the entire allotted time with your Massage Therapist.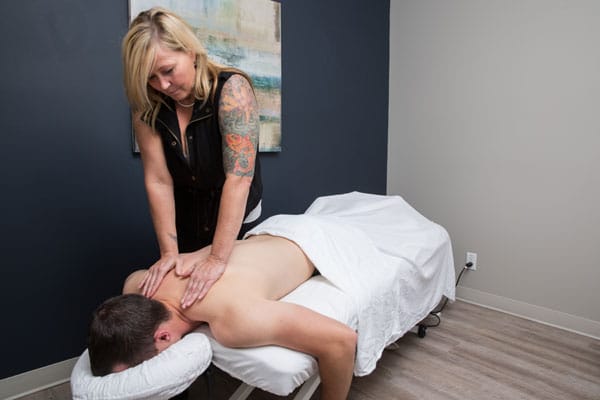 Many musculoskeletal injuries can be treated and prevented with massage. Regular massage helps achieve a feeling of physical and emotional well-being; This results in maintaining ideal health.
Techniques Available Include:
Therapeutic or Deep Tissue Massage
Myofascial Cupping
Trigger Point Therapy
Rapid Adhesion Release Technique
Muscle Energy
Lensen
Taping for Dysfunction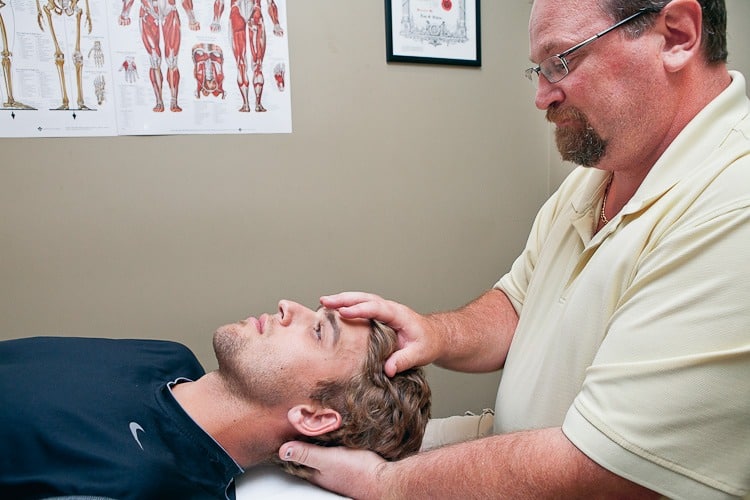 "Anyone who routinely pushes their physical limits or is involved in repetitive activities, from Athletes to Receptionists, will benefit from Massage Therapy." 
Fascia is the thin fiber that covers muscles, bones, and organ. Often from injury, surgery or even emotional trauma, the fascia can become tense and stuck together.
Myofascial Release is a technique that frees tension in the fascia to restore normal function. It does not require oils or lotions and can go into deep muscle tissues. Most patients will notice a positive change as the fascia is returned to its normal state.
Common Conditions Treated With Myofascial Release
Back & Neck Pain
Headaches
Head Trauma
TMJ
Scoliosis
Fibromyalgia
Chronic Fatigue Syndrome
Reoccurring Injuries
Chronic Pain & Dysfunction
Craniosacral Therapy (CST)
Craniosacral Therapy (CST) helps to alleviate the aches, pains and strains of life & improves coping mechanisms to allow for better management of stress.
It's a complementary hands-on method that works with different body systems to pinpoint and address problem sources.
What is the Craniosacral System?
The Craniosacral System involves the development and function of the membranes and the cerebral spinal fluid between the brain and the spinal cord. The system has a rhythm which can be detected by a trained therapist through a light touch. The rhythm travels throughout the body and the stress can be targeted if the rhythm is disrupted.
What You Can Expect
Craniosacral Therapy is a gentle hands-on therapy that improves and develops the Craniosacral System. It involves the bones of the head, the spinal column, the sacrum, and the underlying structures. These gentle manipulations are intended to relieve pain and tension. Special techniques are used to release restriction of the soft tissues that surround the central nervous system and release obstruction in these areas to restore normal function.
How Craniosacral Therapy Can Help You
Common Conditions Treated with Craniosacral Therapy:
Concussions
Chronic Back & Neck Pain
Headaches & Migraines
Vertigo
Stress & Tension
Autism
Chronic Fatigue Syndrome
Post Traumatic Stress Disorder
Emotional Difficulties
Motor-Coordination
ADD/ADHD
Fibromyalgia
Contact our team to find out if Craniosacral Therapy is right for you.
Fascial Stretch Therapy (FST)
Fascial Stretch Therapy is beneficial for all walks of life and allows you to live pain free!
FST empowers you to gain more mobility and flexibility than you ever thought possible. Tying shoes gets easier, picking up after the kids causes less stress on the back, the gym goer gets better range in lifts, the athlete's performance increases, and the chance of recurrent injuries decrease. It's also is a great addition to other modalities and therapies as it helps you reach your goals faster.
How FST Can Change Your Life:
Pain: Often greatly reduces or eliminates pain
Stress: Immediately & significantly can reduce stress
Sleep: Finally wake up rested & refreshed
Appearance: Better posture, look healthier & more confident
Mobility: Greatly improved after just one session!
Weight: Better mobility, more effective training, lets you stay motivated
Sex: Increase your enjoyment!
FST is a pain free, therapist assisted stretching technique that not only stretches the muscle, but the connective tissue surrounding the muscles and other structures. This includes the joint capsule.
It improves mobility of your nerves along with the flexibility of your muscles & fascia. Other stretching methods focus on isolated muscle stretching which is often uncomfortable or even painful, while the results are only temporary. In FST™, we work with the fascia and 'romance' the nervous system to get the best results.
What sets us apart?
Focusing on stretching only the muscle is "old school", boring, limited in benefit, often hurts & does not last! Stretch to Win – Fascial Stretch Therapy® (STW-FST®) is a complete, full body functional mobility restoration system that improves your overall function & flexibility without pain & lasts much longer.
The only Level 3 Medical FST trained provider in Red Deer is our very own Massage Therapist, Bev. Bev is a true expert in mobility, flexibility and stretching and can help you change your body for the better in as little as 1-3 sessions.
FST can be performed on the young and the old and is safe for pregnant women and people with joint replacements. Stretches can also be modified so they are appropriate for everyone.