Our Team
We Provide you the Highest Quality Therapies & Sports Medicine through our Compassionate Professional Team
Melanie Tuck
MELANIE TUCK, BPE, CSCS, CAT(C), MA, ART Practitioner
Red Deer Main
Certified Athletic Therapist, Clinic Owner
Specialized in Shoulder Injuries & Post-Operative Protocols
Advanced Running Biomechanics & Gait Analysis
Melanie's passion for her career & helping her clients will be the first thing you notice when you meet her. Every day she learns & continues to develop and share her skills & knowledge with her clients, as a mentor to students & fellow therapists.
Since 1989 she has worked high level sport including: Western Hockey League, Division 1 rugby, Junior & Senior Men's football. She has also treated many professional athletes.
With extensive study in Running Biomechanics and Gait Analysis, Injuries to the Knee and Shoulder, Melanie is a manual therapist with a Hands-on approach & loves Exercise Therapy!
Melanie spent 10yrs as a Founding Director with the Alberta Sport Development Centre/Central, did committee work with the Alberta Athletic Therapists Association & The Hockey Alberta Trainer Program, and has been a Medical team member at many Major Games, National & International tournaments including Taekwondo in South Korea & the 2007 Canada Winter Games/Men's Hockey.
Melanie instructed Kinesiology at Red Deer College (Athletic Therapy, Anatomy and Exercise Physiology) from 96-2010, and completed a Masters Degree in Athletic Therapy & Exercise Physiology at the Uof A Specializing in Shoulder Assessment and Rehabilitation (04).
Melanie opened COLLEGIATE in August 2003 due to a tremendous need in the region to assist high level athletes.
Rob Manca
ROB MANCA, BPE, CAT(C), ART Practitioner
Red Deer Main
Certified Athletic Therapist
Running Biomechanics & Gait Analysis
Strength in lower back & pelvic dysfunctions
Active Release Techniques
Rob is from Leduc, AB and received his Bachelor of Physical Education in Athletic Therapy from U of A ('94). He became a Certified Athletic Therapist in 2002 and has over 24 years of field experience, with the majority being in hockey. He also has over 12 years of clinical experience, previously having worked in Edmonton and Medicine Hat.
Rob worked in the Western Hockey League for 6 years and was the Head Therapist for the 2004 WHL Champion Medicine Hat Tigers. He spent 3 years working in the Alberta Junior Hockey League and 5 years in the Alberta Midget Hockey League. Rob has also worked in sports like football, soccer, rugby, volleyball, basketball and fastball. He also has professional sports experience working with the Pro Rodeo Sports Medicine Team for 3 years as well as spending time working with the Edmonton Eskimos and Edmonton Drillers.
As an athlete, Rob played soccer for 13 years and was a member of the RDC Kings men's team for 2 seasons ('88, '89). Rob also enjoys slow-pitch, golfing and curling.
Rob joined Collegiate in June 2005
Heather Fletcher
HEATHER FLETCHER, BSC (Hon) Kin, Dip AT, CAT(C)
Red Deer Main
Certified Athletic Therapist
Active Release Techniques
Osteopathic Muscle Energy Techniques
K-Taping Sp
Heather's passion for the field began at an early age as she was always interested in helping people with their injuries. In high school she began volunteering at the Ottawa Sport Science Center where she was introduced to Athletic Therapy. This experience combined with results she saw from treatments on her own injuries led her to this career.
Heather has been a Certified Athletic Therapist since 2004. She completed a Bachelor of Science in Human Kinetics at the University of Ottawa then, an Advanced Athletic Therapy Diploma at Mount Royal College. Heather is also a certified Active Release Techniques Practitioner; Lower Extremity & Spine, a K-Taping Sport Therapist, a Certified Metrik Functional Capacity Evaluator and is specialized in Custom Knee Bracing.
Heather's experience includes working in various clinics across the country and sports including basketball, football, rodeo, soccer, figure skating and volleyball. She was Head Therapist for the Red Deer College Kings Volleyball team from 2001-2007 and in 2005, served as the Head Athletic Therapist for the Men's National 'B' Volleyball Team at the FISU (World Inter-University Games).
Heather was a member of the Collegiate Sports Medicine team in 2006-2008 and rejoined in July 2012.
Alison Skoblenick
ALISON SKOBLENICK, BPHE, BA, CSCS, BAHS, CAT(C)
Red Deer Main
Certified Athletic Therapist
Muscle Energy
Fascial Stretching
Muscle Tissue Release
Crainosacral Treatment
Alison moved from Kingston, ON to pursue her career in Athletic Therapy. She has been providing medical coverage for high risk and high impact sports for the past 8 years and enjoys emergency medicine and managing acute injuries.
Alison has been working with the Rugby Alberta U18 Men's program for the past two years where she was awarded "Therapist of the Year" for her role in developing and implementing specialized mobility, activation and traction sessions for her athletes.
In the clinic setting Alison utilizes her education as a manual practitioner with techniques in Muscle Energy, Muscle Tissue Release, Proprioceptive Neuromuscular Facilitation, and Fascial Stretching to help with her client's recovery.
Alison is also a competitive cheerleading and tumbling coach with Premier Academy. She enjoys strength training, yoga, crossfit and has a keen interest in holistic living and nutrition.
Alison joined Collegiate in July 2014
Jessie Dalton
JESSIE DALTON, BScK, BAHSc(AT), CAT(C), MScPT
Red Deer Main
CERTIFIED ATHLETIC THERAPIST
Jessie grew up in London, Ontario & recently returned from Scotland where she completed her MSc in Physiotherapy. She also has a Bachelor of Applied Health Science in Athletic Therapy from Sheridan College & a BSc in Kinesiology from Dalhousie University.
She has extensive experience with a variety of clientele including professional, university & recreational athletes along with people looking to get back to activities of daily life. She is knowledgeable with various musculoskeletal conditions, injury prevention, concussions and post-operative conditions.  She also has training in myofascial & vestibular treatment. Her goal is for you to continue to be as active as possible, integrating manual therapy, individualized exercise prescription & taping when necessary.
Jessie has been a Certified Athletic Therapist since 2013 & became a Registered Physiotherapist in 2018. She has a background in clinical & field coverage for various sporting events & teams.
Rebecca Henderson
REBECCA HENDERSON, BPE, DipSIM, CAT(C)
Olds Clinic
Certified Athletic Therapist & Clinic President
Rebecca's interest in the area of sports medicine began in her high school sports medicine class in Red Deer. You will be able to see her passion for sports and helping patients when you meet her.
Her more than 20 years of field experience have been mainly in hockey, rugby, football and soccer. She has worked with Team Alberta in both hockey and rugby as well as Rugby Canada's senior men's team. As the Head Athletic Therapist for Roller Hockey Canada's senior men's team she has won 2 IIHF World Championships. Rebecca has been able to work at many major sporting events including- Canada Summer Games 2005 and 2009, Alberta Summer Games and many national championships. She was also a part of the medical volunteers for the 2010 Vancouver Winter Olympics.
Rebecca has taken many manual therapy courses throughout her career, including Active Release Techniques, to allow her to be a hands on therapist and loves the idea of using exercise to heal. Rebecca completed her Bachelor of Physical Education at the UofA (2000) and her Diploma in Sports Injury Management at Sheridan College in Ontario (2003).
Rebecca opened COLLEGIATE SPORTS MEDICINE (OLDS) in 2011 after working at the main COLLEGIATE clinic in Red Deer since inception in 2003.
Paige Shannon
PAIGE SHANNON, BScKin, CAT(C), ATC
Olds Clinic
Certified Athletic Therapist
Paige is a born and bred product of Cobourg, Ontario who decided to spread her wings. Her love of people and sports pushed her to the world of sports medicine. In June of 2016, she graduated from the University of Winnipeg with her BSc in Kinesiology, and majored in Athletic Therapy. She became a certified AT in July of 2016, got her SAT designation in April 2017, and then certified in the United States in May of 2017.
During her education, Paige worked with the varsity athlete populations at Athletic Therapy Clinics at the University of Winnipeg and UOIT in Oshawa, Ontario. While in University, she worked at the CIS and NCAA level. Over the last four years, she developed a specialty in box lacrosse, which included a provincial and a national championship. She has since worked as an AT with Jon Elkin's Goalie School where she worked with prep school, OHL, NCAA and NHL athletes.
Paige joined COLLEGIATE OLDS in August 2017.
Nelson Goyetche
NELSON GOYETCHE, BSc.Kin, MScPT, CAFCI
Red Deer Main
Physiotherapist
Anatomical Acupuncture
Mulligan Concept: Lower Quadrant
Osteopathic Muscle Energy Techniques
Nelson is from a small town in Cape Breton, NS. He attended Dalhousie University where he earned his master's degree in Physiotherapy in 2013. Nelson also graduated from STFX University in 2010 with a degree in Human Kinetics. His professional development experiences include Acupuncture, Mulligan Concept: Lower Quadrant, Osteopathic Muscle Energy Techniques for Cervical and Thoracic Spine, APTEI-Elbow, Wrist, Hand, Foot & Ankle, and Assessment & Treatment of Minor Traumatic Brain Injuries & Associated Spinal Dysfunctions
Nelson has a background in many competitive sports including hockey, baseball, tennis and soccer. He's the biggest CALGARY FLAMES fan from Eastern Canada! He has also been involved in multiple volunteer programs such as Fit for Life & Adapted Physical Education for children with disabilities. He has a strong interest in all sports related injuries, particularly ligament sprains and muscle strains.
He relocated to Red Deer in November 2013 to begin his career in Sports Medicine and looks forward to providing optimal treatment for clients to the best of his ability.
Nelson joined Collegiate in November 2013.
Aspen Haynes
ASPEN HAYNES, BKin, CEP, BA Soc, MscPT, ART Practitioner
Physiotherapist
Red Deer Main
Certified Exercise Physiologist
Strong interest in sports related injuries
Vestibular Rehabilitation
Active Release Technique
Aspen grew up in Central Alberta and has always enjoyed playing hockey. While pursuing her post secondary education she played with the RDC Queens hockey team, winning two championships. While she was completing her Bachelor of Kinesiology at U of C, she continued to play hockey which soon led to her playing in the National Women's Hockey league for 2 seasons. She returned to Red Deer where she was the Assistant coach for the RDC Queens hockey team for 4 years.
In addition to her degree, Aspen is also a Certified Exercise Physiologist and worked as the Be Fit for Life Centre's coordinator which promotes health and wellness in Central Alberta.
Aspen ventured out to Ontario to complete a second degree in Sociology from McMaster University, followed by the completion of her Master of Science Physical Therapy from U of T.
Aspen joined Collegiate in September 2015.
Connor Louie-Poon
CONNOR LOUIE-POON, BSC, MScPT
Red Deer Main, GoodLife Fitness Clinic
Physiotherapist
Level 1 Advanced Orthopaedic Manual & Manipulative Physiotherapy
Concussion Management
Connor is a born and raised product of Edmonton, AB. He completed his Bachelors of Science in 2014 from the University of Alberta. He then continued on to complete his Masters of Science in Physical Therapy in 2016. He has experience working with all types of clients whether it MVA, sports injury, weekend warriors, post-surgical and pediatrics.
Connor has taken post graduate courses in concussion management and Level 1 Advanced Orthopaedic Manual and Manipulative Physiotherapy. He is interested in pursuing functional dry needling and completing his manual therapy.
Connor has been involved in a variety of different sports. He currently enjoys staying active, playing volleyball, outdoor adventures, watching hockey and is always interested in new activites.
Connor is a strong believer in the right education for his clients with the right blend of hands on therapy and functionally tailored exercises. He is excited to gain experience in a sports medicine environment.
Connor joined Collegiate in February 2017.
Emily Nadon
EMILY NADON, BKin, MScPT
Red Deer Main, GoodLife Fitness Clinic
Physiotherapist
Emily was born & raised here in Red Deer & participated in many sports & activities along the way. She completed her Bachelor's in Kinesiology through the University of Calgary then returned to Red Deer where she worked at Collegiate Sports Medicine as an Exercise Therapist from 2010 – 2014.  She spent some time in Victoria prior to starting her Master's in Physical Therapy through the University of Alberta – Augustana Campus.
As an individual who has recovered from several injuries, she was drawn to the rehabilitation side of health & fitness. She believes her experiences in elite & recreational sports has allowed her to empathize & truly understand both sides of the rehabilitation world, as a patient & therapist, & is better able to help patients reach their goals.
She now participates in biking, running, kettlebells, bootcamps, yoga, & bouldering.
Emily is excited & feels extremely lucky to return the Collegiate team where she feels at home & will continue to learn from her colleagues.
Emily rejoined Collegiate in December 2017
Jonathan Fuller
JONATHAN FULLER
Red Deer Main, Olds Clinic
Physiotherapist
Jonathan was born in Daysland, Alberta and grew up in the Alliance/Castor, AB area. He started his post-secondary education in Red Deer to then finish his undergraduate in Edmonton at the University of Alberta with a Bachelor of Science in Kinesiology. He then continued on to complete his Masters of Science in Physical Therapy at the University of Alberta – Augustana Campus.
As an individual, Jonathan loves the sport of running and competed in XC-running at the ACAC and CIS level during his post-secondary education. It was during Jonathan's post-secondary experience he developed a passion for understanding the how and why we use to explain phenomenon. This lead him to the field of research and a publication in the Journal of Advances in Physiology Education; The ins and outs of breath holding: simple demonstrations of complex respiratory physiology.
He believes his experiences in running/sport, research, & recreational activities have allowed him to understand the analytical/problem solving side of rehab to optimize recovery and performance. Additionally, Jonathan believes his love for movement and experience in sport allows him to understand the emotional component of injuries. This allows him to empathize and work with the patient to reach their goals.
In his free time, Jonathan enjoys weightlifting, distant running (best times: ½ marathon 1:18:50; Marathon: 2:51:37), bouldering, hiking and spending time with friends and family. Jonathan joined the Collegiate team in February of 2018.
Kayla (Rogers) Williams
Kayla Williams, BScKin, MScPT
Olds Clinic
Physiotherapist
Kayla was born in small town Cudworth Saskatchewan, and moved to Central Alberta in 2003. Kayla developed a strong interest in Sports Medicine through the experience of her own injuries as well as from taking an introduction to sports medicine course in high school. Kayla has always had a strong athletic background playing competitive soccer throughout her schooling, as well as fastball, snowboarding, skiing, and swimming. In her free time, Kayla currently enjoys playing with her dog, wakeboarding, weight lifting, hiking and travelling.
Kayla attended the University of Alberta where she received a Bachelor of Science in Kinesiology Degree prior to completing her Masters of Science in Physical Therapy. Since completing her Degree, Kayla has completed courses in Biomedical Dry Needling (IMS), and myofascial release, with a keen interest in continuing to complete her manual therapy levels through the Canadian orthopaedic division of physical therapy. Kayla has a strong interest in manual therapy techniques and is continuously learning new techniques through online physical therapy forums, literature reviews and continuing education courses. Kayla's special interest is in treating the pelvis and low back, but she enjoys treating all aspects of the musculoskeletal system.
Kayla relocated to Olds in January of 2016 and looks forward to continuing to build her practice and provide optimal treatments to all of her patients.
Tom Altheim
TOM ALTHEIM, RMTA
Red Deer Main
Registered Massage Therapist
Deep Tissue
Myofascial Release
Craniosacral Treatment
Taping for Dysfunction
Tom completed a 2-year massage therapy program in 1996 through the Northern Institute of Massage Therapy in Clyde, Alberta. In 1997 he opened a small clinic in Drayton Valley, Alberta. Then, in 2001, he began doing contract massage therapy in a staff ergonomic program at a sawmill in Drayton Valley. He also worked 15 years as an EMT for the ambulance service in Drayton Valley.
Tom has developed a keen interest in massage therapy for sports injuries as well as repetitive strain injuries. A highlight of his career was volunteering at the World Games IAAF in Edmonton in 2001 where he did massage on 3 medalists; 2 athletes from Africa and 1 from the Bahamas!
He has continued to add to his list of skills so he can help his clients. During his time here he has taken courses in myofacial release, craniosacral and taping for dysfunction.
In his spare time he is a trainer for the Hunting Hills High School football and rugby teams. He enjoys spending time in the outdoors camping with his wife and two sons.
Tom joined Collegiate in March 2004.
Lanna Richmond
LANNA RICHMOND, NHPC
Red Deer Main, GoodLife Fitness Clinic
Massage Therapist
Deep Tissue
Trigger Point
Myofascial Release
Myfascial Cupping
Lanna grew up and currently resides Red Deer with her son. Her first career was in the banking system and then as an Admin/Office Manager in the oilfield. She had friends and family encourage her to do massage as she was always taking general interest courses (acupressure) and wanted to help anyone in discomfort. So leaving the oilfield she pursued a career in Esthetics and Massage, it is one of the few professions that allow you to make a difference in your own life and the lives of others every day.
Lanna trained at the Marchand Institute of Sport & Deep Tissue Massage in Red Deer (2350hrs). She has also taken schooling at Brandon Raynor's School of Natural Therapies & Indian Head Massage & Myofascial cupping as well as a course in neuromuscular therapy for neck & TMJ.
She likes to perform deep tissue and trigger point in her treatments with some stretches and a relaxation aspect to making clients comfortable. Her passion is working the body as a whole. She's also interested in Chinese medicine, energy meridians, acupuncture, acupressure and releasing blockages.
Lanna joined Collegiate in November 2009.
Marilee Oleson
MARILEE OLESEN, NHPC
Red Deer Main
Massage Therapist
Deep Tissue
Trigger Point
Myofascial Release
Marilee grew up on a farm in the Red Deer county area and once she completed high school she attended the Alberta Institute of Massage to achieve her Advanced Diploma in Massage Therapy.
Marilee also has been trained in esthetics and is a Reiki practitioner (third degree). She has training in Perfect Balance courses: Advanced techniques for shoulder/ rotator cuff and has Advanced level 2 certificate in sports massage therapy.
Marilee played many school sports while growing up but enjoyed playing volleyball and badminton the most. She enjoys learning new skills and techniques and truly enjoys being able to help people feel better and grow.
Marilee joined Collegiate in January 2015.
Bev Morrow
BEV MORROW, NHPC, FST
Red Deer Main
Massage Therapist
Deep Tissue
Myofascial Release
Fascial Stretch Specialist
Bev started her massage journey in 2006. She attained her first massage certification from the Calgary College of Wholistic Health Clinics and later received her diploma in massage from MH Vicars School of Massage.
For the last 2 years Bev has been running her own successful massage office in her hometown, Med Hat, AB and recently relocated to Red Deer to further her professional growth. Bev is very excited to join the Collegiate Sports Medicine team & meet our wonderful clients!
Bev holds many certifications related to massage and health & fitness but the one she is most passionate about is her designation as a Certified Fascial Stretch Specialist Level 3 Medical, 1 of only 4 in all of Alberta. She combines her skills as an FST practitioner with massage for a truly unique treatment experience.
Bev is also a member of the Canadian Sports Massage Therapists Association working towards her diploma in Sports Massage. She hopes to one day work on Olympic and high profile athletes. Some of her achievements as a massage therapist is the privilege to have worked on performers like Ziggy Marley, the contestants of So You Think You Can Dance and the rock band Disturbed.
Bev joined the Collegiate team in August 2017
Kristine Cline
KRISTINE CLINE, Dip FITL, RMTA
GoodLife Fitness Clinic
Massage Therapist
Kristine attended Grande Prairie Regional College for their Fitness Leadership Diploma and also became a Certified Personal Trainer through CSEP. She did personal training and taught fitness classes from 2009-2012.
In 2015 Kristine enrolled in her first year of massage therapy through the Northern Institute of Massage Therapy, completing 1008 hours of training. She is currently enrolled in second year which will give her training in therapeutic, muscle energy techniques, Lensen and deep tissue massage.
Growing up she was involved in multiple sports including soccer, synchronized swimming, speed skating and volleyball.
Kristine and her family moved to Red Deer in 2009 and have loved the community. She has 2 boys that keep her busy but in her spare time she enjoys being outside with gardening, cycling, skiing and walking to the park.
Kristine joined Collegiate in September 2013.
Keenan Hollingsworth
KEENAN HOLLINGSWORTH, RMTA-RMT
Red Deer Main, GoodLife Fitness
Registered Massage Therapist
Keenan is very passionate about constant learning and growth. Keenan first became interested in rehabilitation while working as a personal trainer specializing in athletes & post-rehab clients. His passion for injury prevention & rehabilitation led him to pursue further education in massage therapy. After completing his 2 year diploma at Lambton College in Sarnia, Ontario, Keenan became a Registered Massage Therapist in 2016. He started his career working in multi-disciplinary clinics in Sarnia & Hamilton before moving to Alberta in 2018.
Keenan's clinical interests vary widely, from chronic pain, orthopaedic rehab, sports massage, injury prevention, and much more. He utilizes various manual therapy techniques along with stretches, movement-based approaches, & education to help his patients reach their treatment goals. Keenan has taken several courses from some of the leading experts in Pain Science, Myofascial Release, & Dermoneuromodulation & is currently enrolled in Athabasca University's Human Sciences Degree.
Keenan joined the Collegiate team in March 2018.
Marcie Rae Thompson
MARCIE RAE THOMPSON, MTAA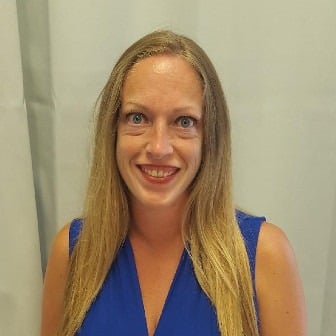 Olds Clinic
Massage Therapist
Marcie is a Registered Massage Therapist with the Massage Therapist (2200 hour) Association of Alberta and has been practicing full time since 2005. She started her education at the University of New Brunswick by earning a Bachelor of Science in Kinesiology. She continued on to the Atlantic College of Therapeutic Massage to attain a diploma in Massage Therapy (2200 hour program) and a specialized certificate in Sports Massage. She then moved to Alberta and attended Mount Royal College where she received her Advanced Diploma in Athletic Therapy.
Marcie truly enjoys her massage therapy career and specializes in therapeutic deep tissue techniques, sports massage, fire cupping and pregnancy massage. She thrives on the spirit of sporting events and being a part of a team, the power of these dreams has allowed her to attend international competitions with both the National Women's Hockey Team and the U22 Women's Hockey Team.?She has also been trusted with the care of many Olympians and professional athletes in the CFL, NLL and NHL throughout her massage career. Marcie just finished her 9th season as the Massage Therapist for the Calgary Hitmen of the WHL and her 7th rodeo season with the Canadian Pro Rodeo Sports Medicine Team.
When she is not working you will most likely find her at home on the ranch with all of her furry friends. Her true passion is to rescue, rehabilitate and help re-home animals in need. She has recently combined her passion for massage therapy and animals when she certified in both Equine Massage and Canine Massage. She now specializes in Jin Shin Jyutsu, an ancient Japanese acupressure technique, for animals and is working to obtain her certification for people in this discipline as well.
Marcie joined COLLEGIATE OLDS in May 2017
Steve Dooremalen, Marketing Coordinator
Katelyn Parada, Reception
Morgan Higginson, Reception
Meagyn Green, Exercise Therapist
Braden Draude, Exercise Therapist
Andrea Flieler, Exercise Therapist
Paul Mass, Exercise Therapist
Carolyn Nash, Sports Med Shop Manager
Charlotte Just, Clinic Assistant