A Chiropractor is trained to treat a variety of conditions that range from acute to chronic. Our Chiropractor has a special interest in Human Biomechanics and Sports Injury Rehabilitation. Here are common conditions treated by a Chiropractor:
Sport Injuries

Headaches And Migraines

Whiplash And Auto Accident Injuries 

Strains And Sprains

Arthritis

General Health And Well Being

Nutrition, Therapeutic Exercise, Lifestyle And Ergonomic Counselling And Recommendations
Clinic Location
Our Chiropractic Clinic is located within Collegiate Sports Medicine, Downtown Red Deer.
Collegiate Sports Medicine
Address: 5121 47 St, Red Deer, AB T4N 1R8
Phone: (403) 314-4458
Hours: Monday-Thursday: 7:00am to 7:00pm
              Fridays 7:00am to 5:00pm
Chiropractic Adjustment is….
A Chiropractic adjustment is one of the main tools used by a practitioner to treat a client. An Adjustment is a procedure in which a joint is taken to its end range of motion and a fast-deliberate thrust is put into the joint causing it to release which may or may not result in an audible pop. The goal of this procedure is to improve range of motion, decrease pain and improve your body's physical function. An adjustment can be performed on both Spinal and Extremity joints.
Treatment
Treatment is rendered through a hands-on approach to restoring, maintaining and optimizing your quality of life.
Diversified Chiropractic Adjustments
IASTM (Instument Aided Soft Tissue Manipulation)
SFMA (Selective Functional Movement Assessment)
Myofascial Release

Mobility Training

Sports Rehabilitation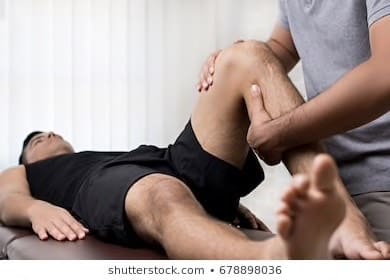 What Sets Our Clinics Apart
Client Education – We provide jargon-free sessions complete with anatomy models and pamphlets to better explain your injury and outline your recovery and future injury-prevention plan.
Client Dedication – Our clinics have a low patient to therapist ratio, ensuring that you receive the attention you need.
Home Programs – Recovery doesn't stop when each session is over. We provide individualized, injury-specific rehab programs to help facilitate a quicker and more effective recovery.
Hybrid Methodology – Our Chiropractor combines the best of both contemporary and traditional treatment techniques to suit your unique needs.
Hands-on Treatment – Our Chiropractor uses hands-on manual therapy, including adjustments, mobilization and a variety of soft tissue techniques.
Orthopedic and Functional Assessment
This is where we gather information about an injury or chronic pain to develop a clinical impression of what the injury is.
Client History
Your Chiropractor will ask a series of directed questions to develop a mechanism of injury and to get a general idea of what body part has been injured. General health care, work and/or sport related questions will also be included.
Visual Observation
Your Chiropractor will observe you in a normal standing posture to gather visual cues about any defects, abnormalities, or malalignments of the structures involved. GAIT and biomechanical evaluations are done as required.
Physical Assessment
This is a hands-on assessment of the injured and surrounding area. It involves a bilateral comparison to the uninjured side. Your Chiropractor will use specifically designed tests to determine abnormalities or pathologies in muscles, tendon, ligaments, nerves, and bones.
Home Program
Our Chiropractor will develop an individualized, injury specific rehabilitation program for you that will:
Facilitate quick (within reason) yet effective recovery from injury
Include exercises and stretches in order to re-develop and maintain mobility
Build functional strength to normalize imbalances and restore function.  Help prevent future injury!
Dr. Jordan Briault grew up in Red Deer where he was heavily involved in football and rugby as both a player and a coach. Dr. Briault had a passion for sports and specifically sports injuries which led him to study Kinesiology at Red Deer College and the University of Lethbridge before attending Palmer College of Chiropractic West in San Jose, California. During his time at Palmer West, Dr. Briault continued to follow his passion in sports medicine by becoming the Vice President of the schools' ACA Sports Council chapter, where he treated athletes from all walks of life from para-athletes to weekend warriors. Dr. Briault uses his knowledge of the human body paired with his sports medicine experience to help people move better and live pain-free lives.