Is my neck making me dizzy?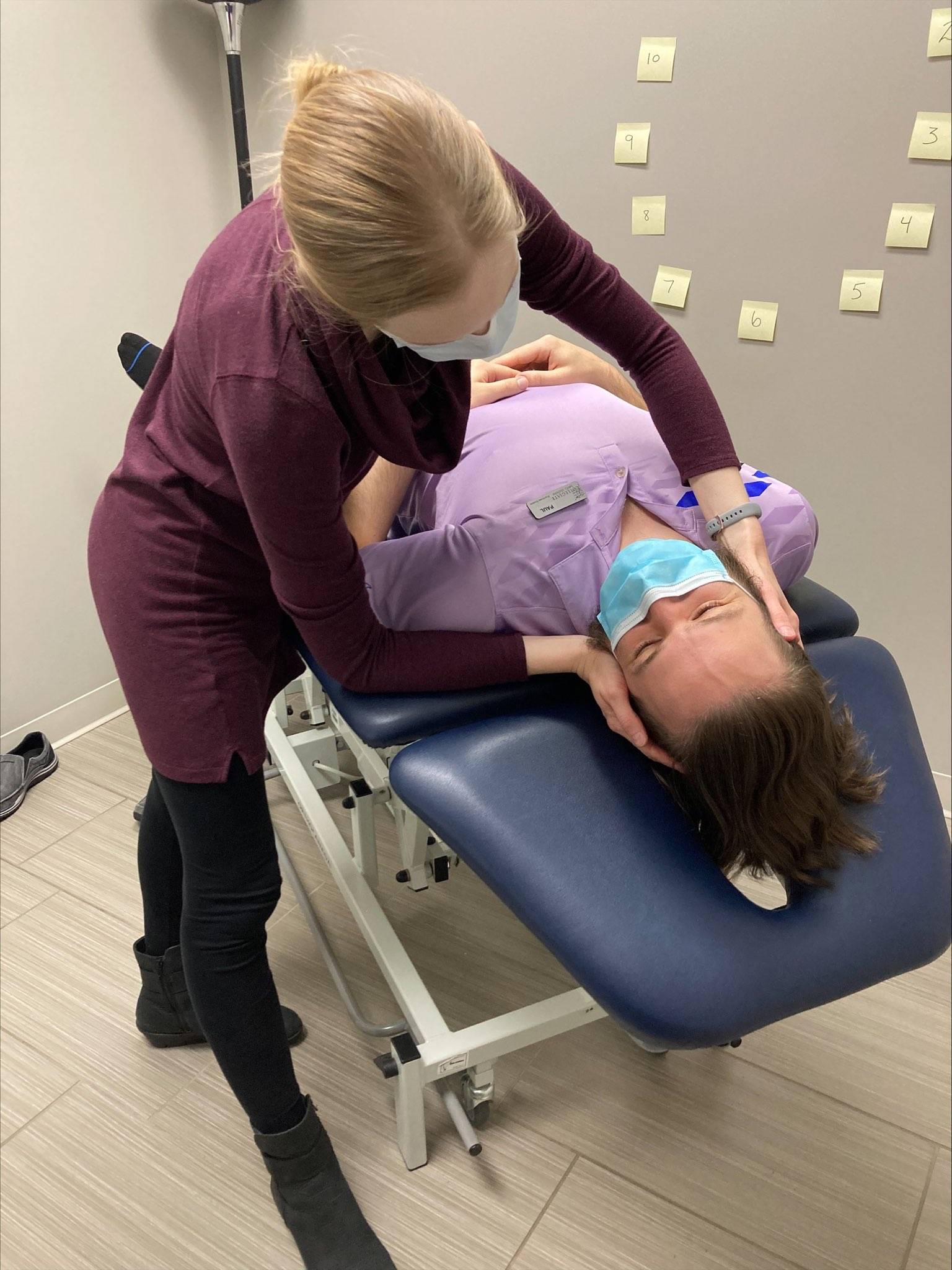 Many people experiencing dizziness wonder if it is their neck that is causing their symptoms. When your neck causes a dizzy feeling, we call this "cervicogenic dizziness". It is common to get dizziness or vertigo (room spinning sensation) when moving the head and neck. For example, this could be with: shoulder checking while driving, looking up at the ceiling, looking down, etc. But is the neck causing the symptoms?
The short answer: maybe. But, probably not.
Many people are not aware that cervicogenic dizziness is considered a diagnosis of exclusion. There are no tests to definitively diagnose cervicogenic dizziness. This means that the neck can only be considered the source of the dizziness if all other causes have been ruled out first.
What needs to be ruled out?
First, we need to talk about the vestibular system. The "vestibular system" is the body's balance centre. It is made of tiny structures in your inner ear. This system sends information to your brain. It works alongside your vision and sense of body position (called "proprioception") to keep you oriented in space. If there is a problem with your vestibular system you could experience a variety of symptoms, such as dizziness, vertigo, imbalance, nausea, or feeling like the environment is continuously in motion.
A therapist trained in vestibular rehabilitation will conduct an extensive examination. The neck is examined, but the key parts of the assessment are for the brain and the vestibular system. Most of the time, once the brain and the vestibular system have been assessed, the diagnosis becomes clear. If this is the case, you will undergo vestibular rehab program rather than neck treatment.
What is vestibular rehab?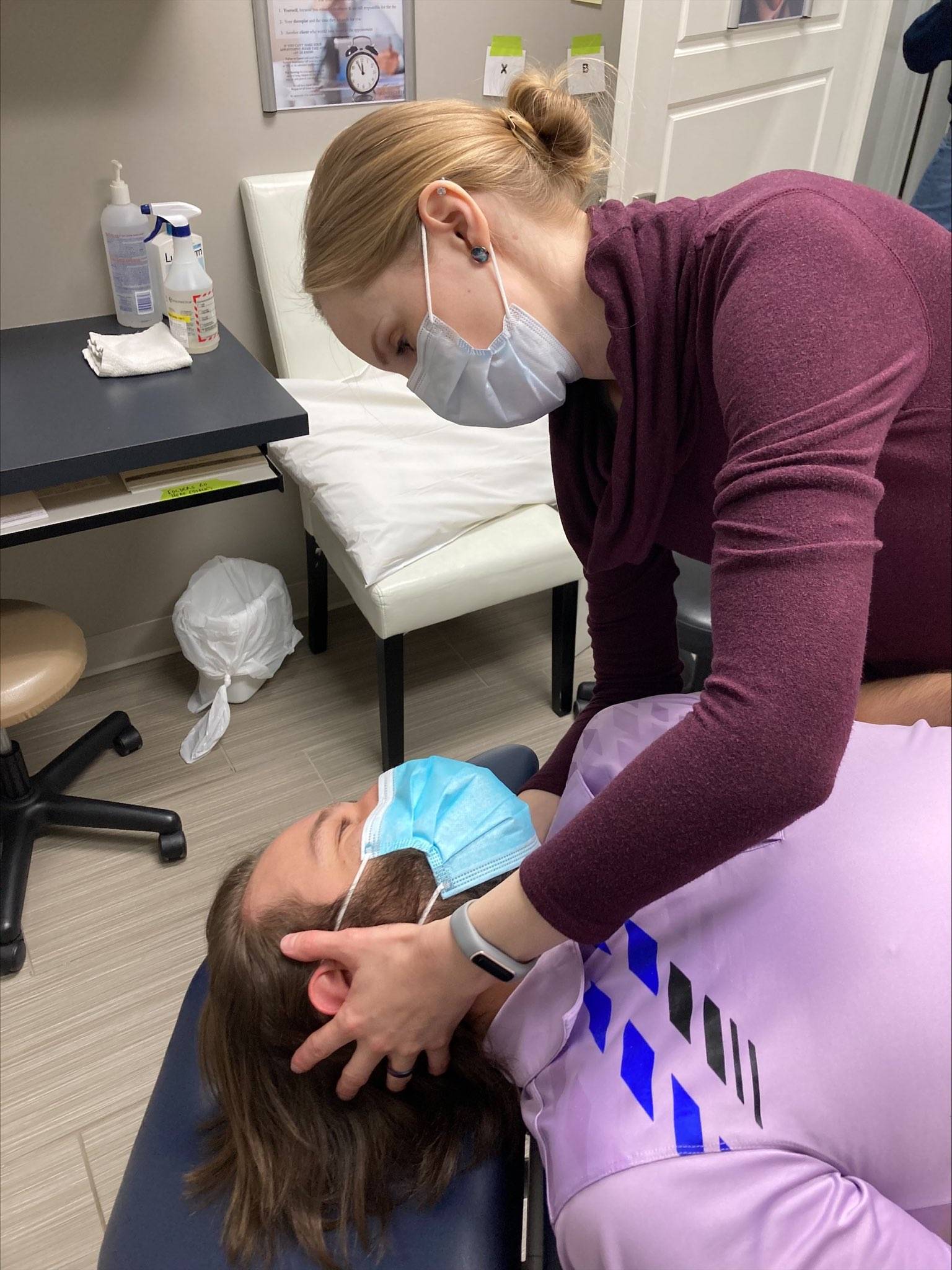 Vestibular rehab is a specialized treatment for the body's dizziness and balance centre. There are a variety of treatment techniques and home exercises to eliminate your dizziness. Depending on the cause of your symptoms, you may only require 2-3 sessions to get better.
What if my neck is making me dizzy?
If the examination determines that your neck is causing your dizziness, we can treat that! Treatment may include manual therapy ("hands-on" techniques for joints and/or soft tissue), mobility exercises, strength/endurance training of the neck, modalities, balance exercises, and cervical proprioception exercises. Restoring cervical proprioception (the sense of joint position) can help with cervicogenic dizziness. Vestibular rehab exercises may also help decrease your symptoms if you have cervicogenic dizziness.
.
Common causes of cervicogenic dizziness can be a whiplash injury and/or is what is called vertebrobasiliar insufficiency (VBI). You will be screened for VBI during your assessment. An artery in your neck, called the vertebral artery, supplies blood to your brainstem. The brainstem is the part of the brain that controls your vital functions, such as heartbeat and breathing. A problem with this artery is serious. If your therapist suspects VBI, they will refer you back to your Physician for further investigation.
Who should I see if I am dizzy?
If you are dizzy, it is important that you are assessed by a therapist trained in vestibular rehab. Your therapist could be missing a key part of your recovery if they do not perform a thorough examination of the brain and vestibular system. You should be wary of any practitioner who says your neck is making you dizzy if they have not conducted a full vestibular assessment.
Questions? Contact me at our Red Deer Downtown Clinic!
​Candace Elliott, PT​
403-314-4458
References:
1. Wrisley et al. Cervicogenic dizziness: a review of diagnosis and treatment. Journal of
Orthopaedic & Sports Physical Therapy. 2000, 30 (12): 755-766
2) Reiley et al. How to diagnose cervicogenic dizziness. Archives of Physiotherapy. 2017, 7 (12)
3.) Lystad et al. Manual therapy with and without vestibular rehab for cervicogenic dizziness: a
systematic review. Chiropractic & Manual Therapies. 2011, 19 (21).
4.) Ahadi et al. Vestibular-balance rehabilitation in patients with whiplash-associated disorders.
The International Tinnitus Journal. 2019, 23 (1): 42-46
5) Endo et al. Cervical vertigo and dizziness after whiplash injury. European Spine Journal.
2006, 15 (6): 886-890
6)Keggi et al. Vertebral artery insufficiency secondary to trauma and osteoarthritis of the
cervical spine. Yale Journal of Biology and Medicine. 1966, 38:471–478.